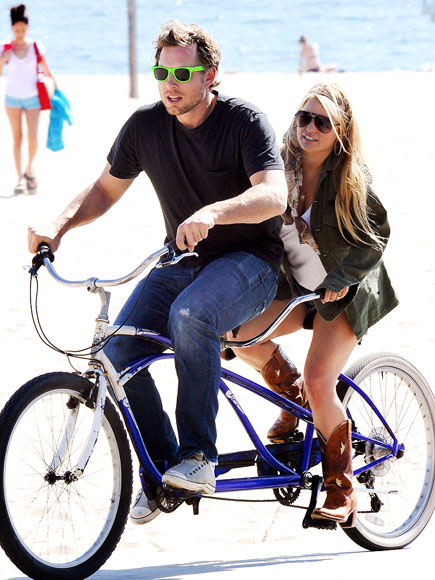 Soon-to-be married couple Jessica Simpson and Eric Johnson spent part of their weekend here in SoCal chillin' out together in Venice, CA with a couple of their friends. The couples went for a bike ride together and raced along the boardwalk on Venice Beach having the time of their lives. Check out the very fun photos below.
She recently said she was planning to lose weight for her wedding by 'dancing around her bedroom'. But it seems Jessica Simpson is also exploring other ways to shed the pounds before she marries fiancée Eric Johnson. The 30-year-old singer was seen enjoying a tandem bike ride with Johnson and a group of friends as they pedalled their way along the Venice boardwalk. Wearing a pair of denim shorts, white vest top and cowboy boots teamed with a khaki jacket and trendy headscarf, Jessica grinned with delight as Johnson took charge of steering the vehicle … Jessica is determined to be in the best shape ever for her nuptials, and is trying to 'hopefully lose some weight' ahead of her big day. She said: 'I'm still trying to figure out what to wear! I don't know if I want the big boom, or the curvy thing, but it will be something beautiful. I kind of have a couple of ideas in my head, and I have a date; I'm really excited!' Asked if she was going to be embarking on a proper diet and exercise regime before the wedding, Jessica replied: 'No exercise is fun! I am going to dance around my bedroom and hopefully lose some weight – and lift some weights and do what I can!'
Whatever Jessica … I say you do whatever you please and you get married in any way you choose! If she wants to slim down for her big day — fine. If she wants to not slim down — that is fine as well. It's so great to see her looking so happy with Eric. I just hope that she is really in love with him and that she is smart going into this marriage. I'm hearing that she is not planning on having a prenup when she gets married this second time and, IMHO, that sounds like a mistake to me. Jessica has amassed a HUGE fortune with her clothing line … and, IMHO, she should protect herself as any smart businessperson in a similar situation would. If the couple are meant to be together forever then they can share in their joint riches. If things don't work out, I'd hate for her to pay for it anymore than she would in emotional pain. BUT … homegirl is gonna do what she wants to do so … I just wish her the best. As I understand it, Jessica and Eric have already picked a wedding date but they have not made that info public. I'm guessing that sometime very soon this year, Jessica and Eric will be saying their I Dos. Let's hope it's a match made in everlasting love.